Station of the Future Handbook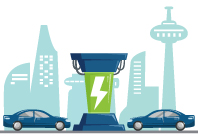 What is it?
The Station of the Future Handbook is a set of guidelines and recommendations to design the perfect user-centric charging station of the future.
It builds and elaborate on the user research analysis conducted at the beginning of the project in order to define the characteristics of the 'perfect' charging station: typology of the charging points, power, connectors and cables (if any), access and authentication methods, payment and billing features, electricity origin, associated services offered in the stations, etc.
The purpose of this handbook is to accelerate the widespread usage of EVs, encouraging users of different social groups and market segments to overcome existing acceptance barriers, and therefore providing viable business models to private stakeholders.
For whom?
The set of guidelines and recommendations is addressed to CPOs, EMPs/MSPs and other private stakeholders of the electromobility field.
What's new with Station of the Future?
The handbook was released in December 2022 and presented during a webinar. 
Contact
Juan Fernando Giménez – IBV