INFRA – Interoperability framework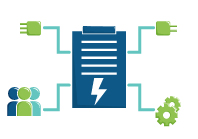 What is it?
INFRA, the Interoperability framework, consists of a set of rules, guidelines, and recommendations to support highly interoperable processes among the electromobility stakeholders along the two TEN-T corridors, satisfying four layers of interoperability. The framework consists of four layers (organisational, legal, technical, and semantic) determining interoperability regarding electromobility services in general and for the five technical USER-CHI products in particular. It provides an overview under which conditions interoperability can be reached.
To achieve a more user-friendly charging infrastructure, it is necessary to focus on these layers when promoting interoperability and engaging all relevant stakeholders and roles. The aim is to improve usability of charging infrastructure by addressing different barriers and drivers such as multiple e-roaming platforms with proprietary protocols, various authentication and billing technologies (RFID cards, smartphone apps, QR codes…). In this case, INFRA sets recommendations for overcoming the difficulties to access charging stations in the way of overcoming a lack of transferability of payments between different CPOs and EMSPs. These recommendations are linked directly to USER-CHI solutions like INCAR..
INCAR – Interoperability, Charging and Parking Platform is directly linked to INFRA in terms of the application of interoperability.
INFRA assists the USER-CHI project partners and European electromobility stakeholders in general in implementing non-proprietary charging infrastructure and services in Europe. It provides recommendations in these four layers for the intended interoperable implementation of the USER-CHI products in the partner cities Barcelona, Berlin, Budapest, Rome, and Turku.
Where?
INFRA will be demonstrated in Barcelona, Berlin, Budapest, Rome, Turku as well as Florence and Murcia.
For whom?
The target beneficiaries are product developers of the five technical USER-CHI products CLICK, INCAR, SMAC, INDUCAR and INSOC. In addition, INFRA targets project-external European stakeholders that implement charging infrastructure along the TEN-T corridors, as well as giving recommendations for stakeholders on a European legal level.
Timeline

What's new with INFRA?
The INFRA solution is now serving as a handbook for the USER-CHI product and demo site leaders as well as external stakeholders involved in the implementation of the five technical USER-CHI products. It supports them by giving recommendations on relevant semantic, technical, and legal aspects currently enabling or hindering interoperability of charging services and charging points.
Since the deliverable of the first framework by Nowack et al (2021), further desk research by IKEM was conducted showing the latest developments in the EU regarding electromobility. The complementary research paper was published on Open Research Europe and offers an updated overall short summary of the main requirements for an interoperability framework for electromobility in the EU and highlights current developments, especially in the legal layer, which were made since the first deliverable.
Contact
Katharina Csillak – IKEM